...
Multiexcerpt
| | |
| --- | --- |
| MultiExcerptName | Feature Overview |
Product Discount promotions can be created to give your customers a percentage or amount discount on an individual product or group of products. Rather than applying a discount to the entire order, only specific products attract the discount, once the user meets the purchase criteria that you set.
Scenarios available: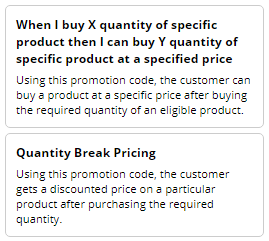 Image Removed
Image Added
In the example below, we'll create a Product Discount promotion for 20% off sleeping bags when you buy 4 or more.
...